La Trobe's Cottage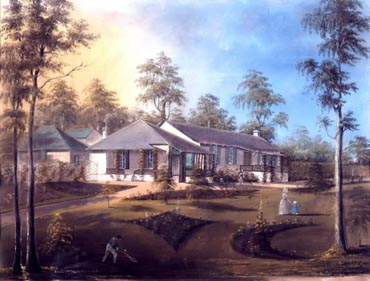 George Alexander Gilbert
A View of Jolimont, Melbourne, Port Phillip 1843-44
Pictures Collection, State Library of Victoria
La Trobe's Cottage was the home of Charles Joseph La Trobe, Victoria's first governor, and his wife Sophie and their children from 1839 to 1854. Originally erected on his Jolimont estate, the single storey dwelling is constructed of panellised timber, replicating the original prefabricated structure brought by him from London. The locally built dining room (1839), the first of many additions made during La Trobe's tenure, is the oldest surviving Melbourne building. The modest yet elegant family home contains many pieces of La Trobe's furniture and other historic artefacts. Visiting...
The Friends of La Trobe's Cottage
The 'Friends of La Trobe's Cottage' was formed in 2009 under the auspices of the C J La Trobe Society to support the National Trust in its efforts to maintain the Cottage, and, through fund-raising, improve the visitor experience at the Cottage through regular public opening times, enhanced interpretation, and improved interior and exterior appearance.
The Friends aim to deliver education programs for schools, and foster a better understanding among the citizens of Melbourne and beyond of the important role La Trobe played in setting up our early university, hospital, library and other institutions, and in establishing the parks and gardens which are such a feature of our city today. Join us...
Links
C J La Trobe Society Inc
National Trust of Australia (Victoria)
Email
Location
Cnr Birdwood Avenue & Dallas Brooks Drive, Melbourne.
Victorian Community History Award 2014
The garden at La Trobe's Cottage
Winner of the
Historical Interpretation Award
search the society and FOLTC web sites

Explore the Cottage in 3 dimensions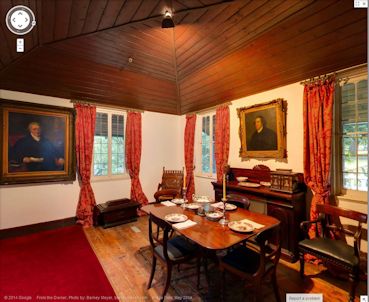 Clicking this image will take you to Google Street View. To move inside the Cottage, click on the arrow by your mouse when it is pointing in the direction you want to go. Drag your mouse across the picture to look around.