Family Life at La Trobe's Cottage


The La Trobes lived simply in their prefabricated cottage that was enlarged progressively and was surrounded by an extensive garden overlooking the Yarra River, with stables, hay house and other service areas behind. The Cottage was elegantly furnished and displayed a refined, tasteful atmosphere. After some time the family's former seaside cottage from Shortland's Bluff (Queenscliff) was relocated to become a school house and the site of additional accommodation for visitors.


The family enjoyed the garden at Jolimont and are seen in various drawings of it; the children were encouraged by their father Charles to enjoy plants, and they planted favourites together and grew bulbs in pots. Their play area is believed to have been to one side of the Cottage, off the larger nursery and sheltered by shrubbery. They had dogs and cats as pets; two of the dogs were called Marquis and Pepper, and a favourite cat Minnie.

Children of family friends would come to visit and Rose Pellet, daughter of the Swiss house-keeper Charlotte Pellet, was an onsite play-mate of the three La Trobe daughters, Agnes, Eleanora and Cécile. After Agnes was sent to Switzerland, at aged just eight, for her education all the family, including in time young brother Charley, would contribute to letters to her that would then take up to five months to reach their destination in Neuchâtel. It is believed that Sophie La Trobe introduced the idea of the Christmas tree to Melbourne.


The La Trobes entertained privately, held musical soirées in the drawing room and invited friends to weekly dinner parties. Some pieces from the family's dinner service are on display in the dining room. Although they lived modestly, a small number of servants were employed, including a butler whose pantry adjoined the dining room. A governess was employed to educate the children, but they tended to leave to be married and then Sophie would attempt to teach them herself or try to find a suitable school among the small number of private establishments of varying quality in Melbourne. Eventually, a French-speaking Swiss governess, Mademoiselle Béguin (Maddy), joined the household in 1850 and she accompanied Sophie and the three younger children on their return to Europe in early 1853. The La Trobe children later in life looked back very fondly on their early years growing up in Australia.


Sophie La Trobe – her life and letters, Index
Charles Joseph La Trobe – letters to Agnes - Index
Further references:
Dianne Reilly, 'Charlotte Pellet, 1800-1877: Housekeeper at Jolimont',
La Trobeana, Vol 8, No 1, March 2009, pp.4-9; 15.
Joan M Ritchie, 'Housekeeper of Jolimont: a biographical sketch of Charlotte Pellet', Victorian Historical Journal, Vol 47, 1976, pp.277-283.
Jennifer Bantow, 'Two Employees of Charles Joseph and Sophie La Trobe',
La Trobeana, Vol 9, No 1, February 2010, pp.34-35.
John Dwyer, 'C. J. La Trobe's Medicine Chest',
La Trobeana, Vol 9, No 1, February 2010, pp.18-31. Additional link
Museum of Australia, 'Rose Pellet's Embroidery Sampler',
La Trobeana, Vol 9, No 1, February 2010, pp.32-33.

| | | |
| --- | --- | --- |
| | | |
| Charlotte Pellet c.1842 | La Trobe's medicine chest | Rose Pellet's sampler |
search the society and FOLTC web sites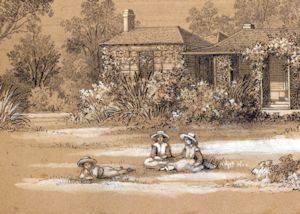 Edward La Trobe Bateman, Jolimont, Front (detail)
Pictures Collection, State Library Victoria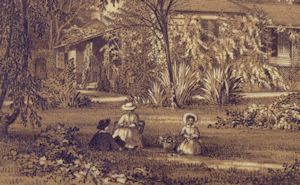 Edward La Trobe Bateman, Front view of Jolimont (detail)
Pictures Collection, State Library Victoria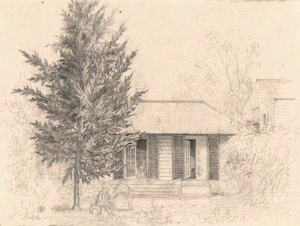 Edward La Trobe Bateman, View of the larger nursery at Jolimont
National Gallery of Victoria