Visiting the Cottage
Location:
Cnr. Birdwood Avenue & Dallas Brooks Drive, Melbourne (near the Royal Botanic Gardens and the Shrine).
Melway map ref. 2L A1.
OPEN:
Sunday 1pm - 4pm (October to April - last guided tour 3.30pm).

The Cottage closes on days of extreme heat, and
on the Grand Prix weekend in March and on Christmas Day/Eve.
For information phone 03 9592 5616, or email ltc@latrobesociety.org.au
Admission: $5, Concession $4, Families $12
La Trobe Society, Friends of La Trobe's Cottage & National Trust members free.
Group tours:
La Trobe's Cottage
Group tours are available all year, Monday to Saturday. Visitors are taken on guided tours through the elegantly furnished rooms of the Cottage, featuring authentic furniture and artefacts donated by members of the La Trobe family. The story of La Trobe's 14½ years in Melbourne and his legacy of parks, gardens and institutions is told. The significance of his pretty garden is included. The tours can take from 45 minutes to an hour, to accommodate the needs of the group. For booking,
click here. Fees applicable:
Adult
$12

Concession
$10

NT Member
$9

Child
$5
Garden tours
Tours of the Cottage garden can be arranged on most days of the week. The tours relate how La Trobe was a dedicated amateur botanist and he had a great interest in his garden; we aimed to recreate his garden, using some of the same plants, as well as those named after him. These tours, which are limited to the garden and do not include the Cottage interior, take about 45 minutes and cost $10 or $8 concession. For bookings and enquiries email
garden@latrobesociety.org.au
Government House
Discover Melbourne's rich heritage in the grand State Rooms of Government House in contrast with the simple yet elegant La Trobe's Cottage. Tours are available by appointment on the first Monday of the month, subject to the availability of Government House. The tours start at the Government House Gatehouse, Government House Drive, at 10am (arrival by 9:45am), followed by a tour of the Cottage concluding around noon. For booking, click here.
Fees applicable:
Adult
$18

Concession
$13

NT Member
$12

Child
$10
Note: As Government House is a working residence, tours may need to be rescheduled or cancelled. Full Names and Photo ID are required for entry.
Events:
For visits to special events see Events
School Visits:
For school visits see Education
Venue Hire:


search the society and FOLTC web sites/span>

View Larger Map
Getting there:
From the City: take any tram along St Kilda Road (except Route 1) to Anzac Station, Stop 20, and walk to Domain Rd (then head to Shrine of Rememberabce/Royal Botanic Gardens).
Alternatively, take Tram No. 58 from William Street/Kings Way to Anzac Station, Stop 20, and walk to Domain Road.
From South Yarra Station: take Tram No. 58 to Anzac Station, Stop 20, and walk to Domain Road.
Note also 605 bus service to Birdwood Avenue, stop Shrine. Link
La Trobe's Cottage is located on the corner of Birdwood Avenue & Dallas Brooks Drive. This is close to the Shrine and Royal Botanic Gardens.
Parking in neighbouring streets is free on Sundays.

Explore the Cottage in 3 dimensions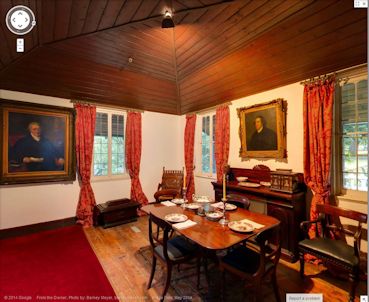 Clicking this image will take you to Google Street View. To move inside the Cottage, click on the arrow by your mouse when it is pointing in the direction you want to go. Drag your mouse across the picture to look around.