The Friends of La Trobe's Cottage
The 'Friends of La Trobe's Cottage' was formed in 2009 under the umbrella of the
C J La Trobe Society to support the National Trust in its efforts to maintain the Cottage, and, through fund-raising, improve the visitor experience at the Cottage through regular public opening times, enhanced interpretation, and improved interior and exterior appearance.
The Friends aim to promote education programs for schools, and foster a better understanding among the citizens of Melbourne and beyond of the important role La Trobe played in setting up our early university, hospital, library and other institutions, and in establishing the parks and gardens which are such a feature of our city today.
Volunteers are involved in running tours of the Cottage, holding working bees in the garden and on the cottage building, maintaining the historic collection held in the Cottage, and organising fund-raising events.
Membership of The Friends of La Trobe's Cottage
If you would like to join us, please contact us.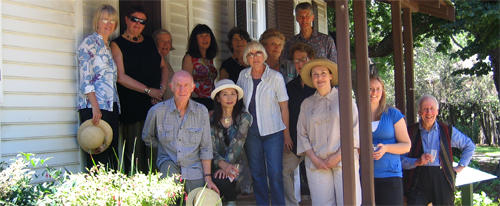 The Friends aim to publish regular newsletters. You can view the past newsletters here and garden news on the Garden page.


Newsletters
search the society and FOLTC web sites