Improvement Project
Shutters were repaired, locks changed and major electrical work carried out in 2020 with funds donated by La Trobe Society members.
Site Development
The National Trust was awarded a grant from the Commonwealth Government's Federal Stimulus Package in 2009. This funded work to repair timbers, repaint the Cottage and replace the fence. It also funded a series of interpretative signs in the surrounds of the Cottage.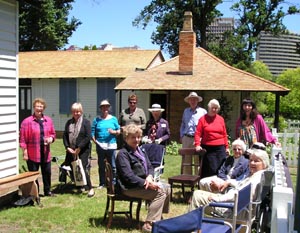 Guides appraise the new fence and shingles during their end-of-year lunch; a visitor receives assistance at one of the interpretative signs
Roof Replacement
An appeal was initiated by the Friends of La Trobe's Cottage in 2010 to raise funds to replace the Cottage roof shingles. The shingles were replaced at the end of 2011.
The Friends of La Trobe's Cottage, together with the C J La Trobe Society, initiated a further appeal in 2015 to raise funds to replace the roof shingles on the Servants' quarters.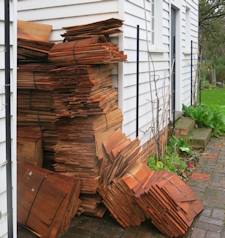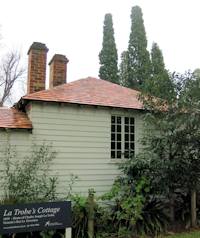 search the society and FOLTC web sites

Garden Project
From its inception the Friends group built on existing research into La Trobe's garden plantings and have worked towards re-creating parts his garden as it appeared during his time at Jolimont.
Development Proposal
A Development Proposal for the long-term development of the Cottage site and its facilities was produced by the Friends and presented to the National Trust in November 2010. To see a copy click on the link:
LTCDevelopmentProposal2010.pdf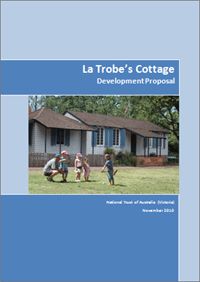 (3.6mb)